littleBits is electrical circuit creating toy. Each function is assembled in a block module with special magnet connector, for easy electrical connection. The crispy connection feeling is fun!
The founder is Ayah Bdeir and one of the funder is Joi Ito.
Last year 2013, KORG became littleBits official importer in Japan. They also started to design their original synthesiser modules with littleBits. The littleBits Synth Kit was released at December, 2013.
littleBits Synth Kit was referenced legendary classic synthesiser, KORG MS-20 for the circuit design. Each sound making elements was separated in small littleBits blocks. You can choose any of sound element block to assemble your designed musical instrument as you want :-)
littleBits Synth Kit is just a instrument. If you want to hear the songs on it, you should add the keyboard block, push switch, light sensor...etc, and play it in real-time. You can also use analog sequencer in the kit, but it is available only 4 notes and not enough for a melody.
I tried to find a way to send MIDI melody note data. I confirmed the magnet connector specification to connect my MacBook and littleBits.
The connector had three pins. The centered pin seemed for voltage-controlled (0-5V) and the others is for power(5V).
The centered pin seemed available for MIDI playing.
Incidentally, KORG MS-20 was revived as new synthesiser, "MS-20 mini" at last year.
The original and the revived mini have an output terminal to send keyboard notes as control voltage.
And USB was added to the revived mini...It means MS-20 mini is available to send the melody from my MacBook to littleBits.
At last, I succeeded to connect MS-20 mini to littleBits via special hand-made cable.
Let's see the movie with the melody :-)
I imagine that littleBits persons may not like such as the activity.
Because they seems to avoid digital automation and preset things.
They may think such as the function omit children's realtime-activity.
Sorry, they may never think so. It's just in my image.
Anyway I think adequate digital and preset enable to expand children's possibility.
I believe their activity for children and adult children ;-)
Finally, I would like to say the notice.
Such as the hand-made cable is enable to send over-voltage easily.
Take your own risk and let's try!
littleBits Synth Kit
http://littlebits.cc/kits/synth-kit
Last sunday, I was on the stage at music event to
played DS-10,SU-10 scratchable small sampler and Electroplankton.
The event was "OTODUST 2", for mobile musical gadget and the music.
The performer played DS-10, TENORI-ON, or such as small electric musical instruments.
Many people showed many precious instruments, Yamaha Miburi, Uda,
Gakken Theremin Premium, HP Speak & Spell, Stylophone...etc.
Not only consumer productive instruments, but own making one.
The movie is the event's digest. Let's see. ( Uploaded by 'NEMO-san. Thank you! )
I haven't play music in public since I was in high school( ! ),
but the other genius performers helped me, and I could enjoy it
with applause ( with no booing :-) from the nice audience.
Thank you!
Uda( musical instrument. not Udder. Japanese )
http://uda.la/index.html
TENORI-ON
http://www.global.yamaha.com/design/tenori-on/
Miburi ( Japanese )
http://www.yamaha.co.jp/design/products/1990/miburi/
Miburi ( Google )
http://www.google.com/search?hl=en&q=miburi
Noriko ( the band used such as instruments. Japanese )
http://www.club-noriko.com/
Electroplankton (Google)
http://www.google.com/search?&q=Electroplankton
DS-10
http://www.aqi.co.jp/product/ds10/en/index.html
SU-10
http://www.loopers-delight.com/tools/SU10/yamahaSU10.html
http://www.synthmania.com/su10.htm
http://www.vintagesynth.com/yamaha/su10.shtml
OTODUST( Japanese )
http://remoto.818nc.jp/otodust.php
TENORI-OFF ( poorman's TENORI-ON, But the inventor said the materials was not cheap... )
In Japan, the new term begins in April.
Many Japanese magazines appended a special supplement thing
to get their new readers.
" Sho-gaku-ichinen-sei " ( First grade Elementary school students )
magazine is published 277,000 copies every month.
And they add a toy finger piano instrument in their magazine at the April issue.
In other words, 270k children took the such as Cyber Musical Instrument,
means every 4 Japanese first grade elementary school students got it!.
The name is " Anyware Finger Piano Do-Le-Mi-kun".
I got 2-units and played by hands.
I practiced hard :-)
WIRED geek dad: They Don't Include These In a Box of Cheerios
http://blog.wired.com/geekdad/2008/03/they-dont-inclu.html
the finger piano report (Japanese)
http://gigazine.net/index.php?/news/comments/20080320_sho1/
Shogaku-kan ads page
http://adpocket.shogakukan.co.jp/67/
Last week, I went to see The Sampler Battle Event at Nakano, Tokyo.
A musical battle event is popular at Dj or Hip hop rap event. But I never heard
about such as realtime track making battle using sampler machine.
That's may the first Realtime Sampler Battle in Japan ! ( in the world? ).
The rule is here.
1: Player can use any musical equipment. but you should put it in 120×45cm size table.
2: Player can use a prepared sound in your stock only one shot sound(ex. bass drum)
3: 3 players in each session.
4: In one set the session, 1st, free druming in 5 min at a time.
5: Next, DJ play time for 30 min. Player can sampring the sound and the phrase freely.
6: After that, play by turns. 5 min for each player.
I surprised that most of the player used AKAI MPC sampler with realtime PAD drumming,
and KORG KAOSS PAD Effector.
Such as equipment was often used at Hip hop truck making, and DJ Playing.
But the event may make a new category in a music.
BTW, a judge is "Hifana" at the battle.
I want to show you the Hifana performance instead of the sampler battle event.
Let's see.
wikipedia : Sampler
http://en.wikipedia.org/wiki/Sampler_%28musical_instrument%29
AKAI
http://www.akaipro.com/
This event's flyer( Japanese )
http://www.heavysick.co.jp/zero/cgi-bin/imgdiary/diary/bn2008_02.html#20080224
Last saturday night, I went to concert performed by
Kitsune Akimoto's band "Hz"
Kitsune-san was one of the first person to adjust his
CG animation to the music just in tempo used
Delux Paint and Light Wave on Amiga computer.
And he became famous to create CG animation for "UgoUgoRuga" TV program.
It was for kids but famous artists performed in the show,
Pizzicato Five, JAMIROQUAI ...etc.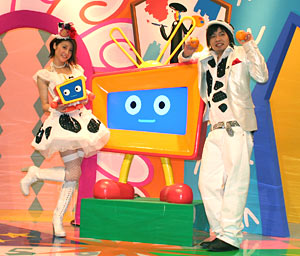 The band's performace was the first in 7 years(!) and I enjoyed it.



I could watch another band's performance at The night.
I surprised one of the band's vorcalist used NES Controller as his MICROPHONE !!
I couldn't see well but his controller might be Second one.
( Japanese NES-Famicom had Microphone at only Controller 2.)
The band's name is "Floppy". Check it out!




Kitune-san's Animations
http://phobos.apple.com/WebObjects/MZStore.woa/wa/viewPodcast?id=97828985
Kitune-san's webpage
http://web.mac.com/kudan/


Floppy fan site
http://www.tku.ac.jp/~05c1083/index2.html
LED液晶内蔵Head Mount Displayをつけて(前見えない)、
ファミコンコントローラで歌う写真がありマス。

Floppy
http://www.picopico.org/


UgoUgoRuga DVD-BOX will be comming soon!
http://www.iza.ne.jp/news/newsarticle/entertainment/television/38839/
ついにDVDガ!

wikipedia:Nintendo Entertainment System
http://en.wikipedia.org/wiki/Nintendo_Entertainment_System


JAMIROQUAI on Japanese TV show

Velfarre Roppongi,
one of the biggest Club space in Tokyo,
was closed at last year end.


Roppoingi is a Large Night Town area in Tokyo.
After WWII, there was a big U.S. ARMY Base ( and their is small one yet.)
and been built a lot of the country's embassy in this area.
Today, foreigners and Japanese come to Roppongi in night time
to enjoy the night life yet, but not only night time.
In day time, they are coming to Roppongi redevelopment area.
In Roppongi, large business area was opened.
and next, new one and new national museum will open in this year.
Roppongi is changing.


I don't know why Velfarre was gone to close.
It may be simply business problem. the operation didn't looks well.
Or, I hard the area is next redevelopment area,
but it'll not start soon.
Anyway, Velfarre Closing looks one of the changing in Roppongi.



Last month, I went to the last salsa dance event at Velfarre.
The image was the hottest floor ever, dancing! ( yes, it's not me :-)

and the best paformers in the night is them, hiro and taku, rolling!

velfarre
http://velfarre.avex.co.jp/index.html

hiro & taku ( link to japanese page )
http://www.tokyosalsa.com/x/html/modules/tinyd0/index.php?id=5

六本木ヴェルファーレが閉店−12年の歴史に幕 : 六本木経済新聞
http://roppongi.keizai.biz/headline/717/index.html

" Give Us Back Aoyama Park! "
http://home.att.ne.jp/sigma/azabu/aoyama/syomeiei.htm
the article was appeared at Kanagawa local newspaper
that Akai professional M.I. was bankrupted.
http://www.kanalog.jp/news/local/entry_16076.html


Akai was famoused about wind instruments looks synthesizer,
sampler (you can synthesize your recorded voice and sound),
and specialy drum machine "MPC".
When you use to make your music track, not only you can map sample sound so diverse way on 16 small tap pad and make your phrase with directry tapping by your finger, but the machine have distinctive rhythm when you play your music sequence.
A lot of music track maker ( techno, hiphop, house...etc ) love the machine and custom it.



http://www.forat.com/service/all%20pictures.htm

Wired誌に付属したCDがCreativeCommons(CCPL)で
配布されていて、そのCDと同内容の曲が
Webにまるごとアップされてるぞ。
cornelius(小山田圭吾)の曲もあったのでdownload。
http://creativecommons.org/wired/
CCPLとはようするに著作物のコピーや改変を
ただ認めないのではなく、認めたり認めなかったり
選択できるようにしたライセンスだ。
だからCCPLならすべて無制限にcopy freeって
わけではないらしい。
今回のCDのlicenseはコチラ。
非商用のcopyが可能で、samplingなら商用も可能みたい。
-----------------------------------------------------------------------------------------
Sampling Plus: Songs under this license allow noncommercial sharing and commercial sampling, but advertising uses are restricted.
Noncommercial Sampling Plus: Songs under this license allow noncommerical sharing and noncommercial sampling.
-----------------------------------------------------------------------------------------
creative commonsに関してはコチラ。
USと日本の著作権の扱いなんかに違いがあるので
USの考えがそのまま日本にもってこれるわけじゃないみたい。
でも今後が楽しみだゼ。
http://www.creativecommons.jp/